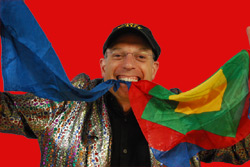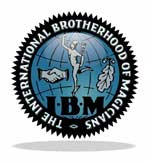 Who is Crazy Davy?
David Penn, better known to children as Crazy Davy, has a BA in English and a Masters in Elementary Education, and is a Massachusetts certified Elementary Teacher. He is a member in good standing of the International Brotherhood of Magicians, Ring 122, and a father of two. He is also very silly!
Professional Credentials:
10 years of semi and professional work as a magician
Ongoing professional development
Massachusetts Certified Elementary Teacher
Specialized courses for children's education, psychology and educational pedagogy
No Animals, Latex Products, or Nuts!
Due to concerns about animal safety and allergies to pet hair, Crazy Davy does not use animals in his act. And the only nutty thing in the show is Crazy Davy!
Crazy Davy also has products that add a bit of magic to your event!
Magically inspired Birthday Invitations and Thank You Notes!
Magical Gift Bags, including Fortune Telling Fish, Colorful Elastic Bracelet, Animal Tattoo, "Gold" Coin, 5 Magic Effects You Can Do,
and The Top Ten Magicians of All Time Bookmark!
Magic Wand Party Favors!
To reserve your party or event, please email Crazy Davy at: crazydavy@crazydavy.com or call me at 978-761-4321. References are available on request.
A Word About Magic:
For those who are concerned with the idea of "magic," Crazy Davy offers tricks and illusions that astound. The real "magic" comes from the smiles and happiness of my audience…the only "true magic" that counts!
Click to visit Crazy Davy's recommended links